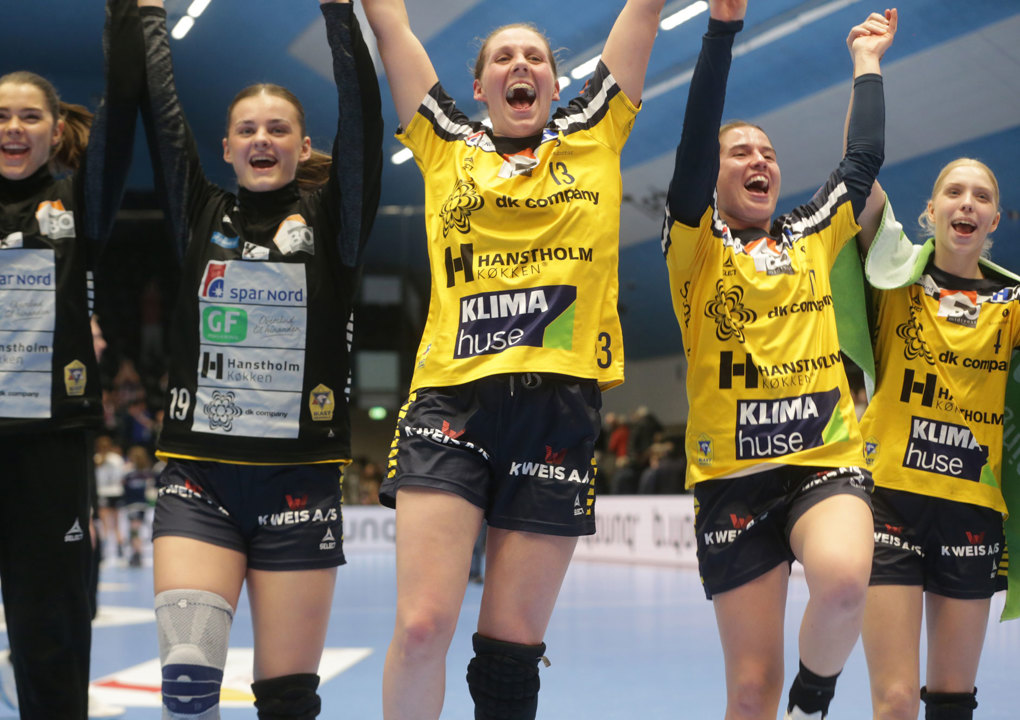 Ikast on top of almost all rankings
Eight teams from six nations are still in the race for the trophy in the EHF European League Women, after 48 group phase matches. One former EHF Finals Women winner and four more former EHF Cup Women winners are among the quarter-finalists.
While a Hungarian player is top scorer of the group phase, almost all other rankings are dominated by Danish side Ikast. Here are more facts and figures on the second-tier competition in European women's club handball.
1 - for the first time in the history of the EHF European League Men and Women and Men's EHF Cup, the host of the final tournament is not participating in the competition. Graz in Austria will host the EHF Finals on 13/14 May
1 team is part of all three quarter-finals played in the European League women: Ikast from Denmark. The group B winners also qualified for both EHF Finals, but lost twice in the semi-finals
1 former European League winner is back in the quarter-finals: Nantes (2021). The 2021 runners-up Siófok, the last winners of the EHF Cup in 2019, have also reached this stage
1 participant of the 2022 EHF finals is still part of the competition: Ikast (third ranked). Last year's winners SG BBM Bieitgheim played in the EHF Champions League this season, finalists Viborg were eliminated in qualification, and CS Minaur Baia Mare have not played in Europe this year
1 team won all six group matches: Ikast
1 of 48 group matches ended in a draw: SCM Ramnicu Valcea vs Thüringer HC in group D, 32:32
1 - for the first time in the new competition, Romania is represented by only one club and Germany is represented by two teams
1 group (C) needed to be decided by internal ranking, as three teams were equal on eight points: Sola and Nykøbing progressed, DVSC Schaeffler were eliminated
1 of four teams seeded for the group phase made it to the quarter-finals: Ikast. Debrecen, Molde and Paris 92 missed out
2 different nations and clubs were the previous winners of the European League: Nantes (France, 2021) and Bietigheim (Germany, 2022)
2 nations represent the group winners, Denmark and Germany with two teams each. No teams from the same country face off in the quarter-finals
3 teams made it from the first qualification round to the quarter-finals: Thüringer HC, Nykøbing and Siófok
4 of the eight teams were European League quarter-finalists at least once: Ikast (2021, 2022), Valcea (2022), Sola (2022), Nantes (2021)
5 group matches ended with a gap of 10 or more goals
5 of the eight quarter-finalists made it from the second qualification round to the knock-out stage: Sola, Dortmund, Valcea, Nantes and Nykøbing
5 of the eight teams have won European Cup competitions before: Ikast (under their previous names FC Midtjylland and Ikast-Bording) won the EHF Cup in 2002 and 2011 and the Cup Winners' Cup in 2004 and 2015; Siofok won the EHF Cup in 2019; Valcea won the Cup Winners' Cup in 2007; Nantes won the European League in 2021; and Dortmund won the Challenge Cup in 2003
6 nations are represented by the eight quarter-finalists: Germany and Denmark with two teams, Romania, Hungary, France and Norway with one club each. In 2020/21 and 2021/22 it was only five different nations
6 points from six matches were enough for Nantes in group B to qualify for the quarter-finals
7 nations were represented by the 16 group phase participants. The only nations which is out now is Croatia
12 goals was the biggest margin in the group phase, when Besancon won 41:29 at Molde and when Nykøbing beat Debrecen 34:22
15 times in 48 matches 60 or more goals were scored
31 of 48 group matches ended with home victories; 16 times the away teams were victorious
38 goals was the lowest combined score in the group phase, when Siófok beat Besancon 20:18. There were three matches with an overall total of 46 goals (Podravka vs DVSC 20:26, DVSC vs Sola 25:21 and Paris vs Valcea 24:22)
+42 is Ikast's goal difference after the group phase, which means they won every match with a seven-goal margin on average
46 goals were scored by Hungarian Csenge Kuczora to be the top scorer of the group phase - but as her club Vác missed the quarter-finals, she will certainly be passed by the likes of Iryna Glibko (Valcea/44 goals), Nathalie Hagman (Nantes/43), Asma Elghaoui (Valcea/41) and Annike Lott (Thüringer HC/41)
70 goals was the highest combined score in the group phase, when Besancon won 41:29 at Molde and Valcea beat Vac 40:30
147 goals were conceded by Ikast (24.5 goals per game in average) to have the best defence ahead of Siófok (149) and Nykøbing (151)
189 goals were scored in the six group matches by Ikast to top the attack ranking ahead of Thüringer HC (188) and Valcea (183)
2,690 goals were scored in the group phase, an average of 56 goals per game – and more than in 2020/21 (2,304) and 2021/22 (2,676)
11,112 fans attended Dortmund's final group match against Siófok in the sold-out Westfalenhalle to break the all-time attendance record for the second tier women's competition, and become the biggest crowd for women's club handball after the EHF FINAL4 tournaments in Budapest
Photos © Frederik Dahl, Hamistolen; SURF UP; Steffen Prößdorf