EHF European Cup
Summary: European glory for "very emotional" AEK
The EHF European Cup Men 2020/21 final, featuring AEK Athens HC from Greece and Ystads IF from Sweden, has been carried out as a double-header this weekend with both legs played in Greece.
on Friday, AEK beat Ystad in the first leg of the EHF European Cup Men final by four goals, 30:26
on Sunday, AEK defeat Ystad again by four goals, 24:20 this time, to win the final 54:46 on aggregate and become the champions of the inaugural European Cup season
AEK are the second EHF club competition winners from Greece - after AC Diomidis Argous won the Challenge Cup in 2012
Eric Willemsen reported on Sunday evening
23:00
What an end to the EHF European Cup Men season! We have got great winners with AEK Athens HC, who had been close to claiming the Challenge Cup a few times in recent seasons and now finally have won Europe's third-tier competition to set off a huge party in Greece.
Indeed, like coach Dimitris Dimitroulias said, a "very emotional" moment for him, for the club, for Greek handball.
And Ystads IF? We will likely hear a lot from them in seasons to come. The Swedish side came up just short in this final but have proven they can contest for European titles, as well.
That brings us to the end of our coverage for today. Thanks for joining us and goodbye for now!










Today, with this crowd, with this team, we believed in it so much, we could not lose. It was a very emotional moment for me, I am so happy for everybody. This crowd deserves a European cup, my players are absolutely fantastic.
22:44
Read how AEK fulfill their European trophy dream by beating Ystad twice in the final:
22:21
Watch THE moment AEK have been waiting for..:
22:02
... and this is what it means when you can celebrate it with your fans!
21:58
This is what it means to win your first European cup...
21:33
RESULT | YSTADS IF VS AEK ATHENS HC 20:24 (11:11)
AEK WIN 54:46 ON AGGREGATE
Congratulations to AEK Athens HC, the proud EHF European Cup Men 2020/21 champions!
21:26
What. An. Assist. Sheer brilliance as AEK are so, so close to winning their first European trophy!
21:19
Oh, AEK have one hand on the trophy now! They lead Ystad 19:16, so that's a seven-goal aggregate lead, with just 10 minutes left on the clock... What can the Swedish side still do?
21:14
Team timeout! This final remains very close, with neither side building a significant lead. That favours AEK for the title, as they have that four-goal buffer from the first leg. Still 15 minutes to go!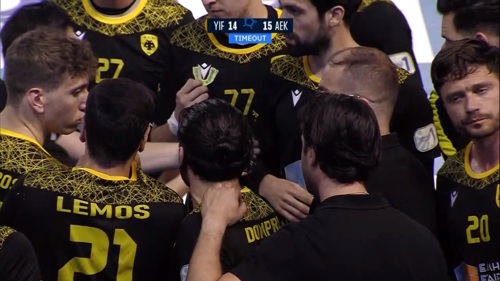 20:59
The second half is running, quick flash back to two beauties from the first half:

20:43
HALF-TIME | YSTADS IF vs AEK ATHENS HC 11:11
AEK have been ahead for most of the first half - even by as much as three goals. However, it is all square at 11 all at the break in Chalkida so Ystad have only 30 minutes left to wipe out that four-goal deficit from the first leg.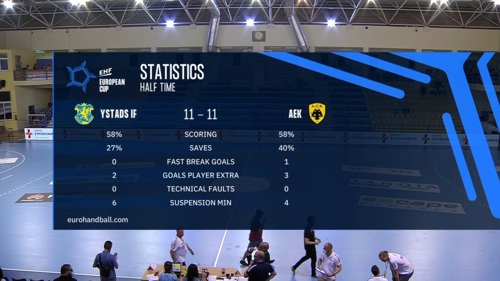 20:31
What about THIS to finish a fast break? Well done, Christos Kederis:
20:18
Early advantage for AEK, but a nice opening goal for Ystad:
20:11
With 10 minutes on the clock, AEK lead Ystad 4:2, thanks to three (!) goals from Christodoulos Mylonas. That makes for a Greek six-goal lead on aggregate.
20:00
We are off and running! Here is your DIRECT LINK TO YSTAD VS AEK ON EHFTV.

19:44
AEK took a big step towards their first European trophy by winning the first leg 30:26. However, the team of coach Dimitris Dimitroulias will be aware that they have not won this cup yet. In the first leg, they led by six goals several times (11:5, 21:15) but in the end had to settle for a four-goal advantage.
AEK have an excellent track record in this competition-formerly-known-as-Challenge-Cup, as they reached the final in 2018 and the semi-final in 2019, while they had progressed to the quarter-final again in 2020 when the season was canceled amid the coronavirus outbreak.
Can AEK become the second Greek winner - after Diomidis Argous in 2012?
19:32
So, the task for Ystad in the second leg of their first ever European final is clear. On Friday, the team of coach Oscar Carlén seemed a bit overwhelmed by the occasion. Their 4:3 lead in the ninth minute marked the only time they were ahead in the entire match.
But four goals is no insurmountable deficit. Can Ystad turn the tide and become the third Swedish team to win Europe's third-tier club competition - after Skövde in 2004 and Sävehof in 2014?
19:23
Even though they are playing in Greece (again), it is good to know that tonight's second leg is officially Ystad's home game. That is important to keep in the back of your mind just in case the Swedish team were to win this second leg by a four-goal margin, in which case the away-goal rule comes into play.
And another rule: If Ystad win the second leg by the exact same result like they lost the first leg (i.e. 30:26), then we would see no extra time being played but we would go to a penalty shoot-out straight away. 
19:14
AEK and Ystad are playing a double-header this weekend - with both matches taking place in Chalkida, some 70 kilometres north of Athens.
The first leg took place on Friday. AEK led 16:12 at half-time and held on to that four-goal margin for a 30:26 win. One of the Greek side's key players was Austrian veteran goalkeeper Thomas Bauer:
19:00
Good evening on this Super Sunday!
What a night of handball this is! While at the DELO EHF FINAL4 in Budapest, Brest Bretagne Handball and Vipers Kristiansand are battling it out for the title in the DELO EHF Champions League, we are going to focus on the other final taking place: the second leg of the EHF European Cup Men final between Ystads IF and AEK Athens.
We throw off in one hour so get ready for this one!





20:10
Well, that was certainly a good first outing for Athens and they will be the ones going home tonight with confidence that they could lift the EHF European Cup on Sunday night. But Ystads should not be counted out - four goals is a margin which many teams have overturned in second-leg matches before now! Make sure you tune in on Sunday at 20:00 CEST to find out which team will triumph.
19:45
Ystads coach Oscar Carlén says it was a good game and he thinks his team still has a opportunity to win the final, after finding some chances towards the end of the game. He says Ystads haven't played at all for five or six weeks, so were perhaps a bit rusty initially.
Dimitrios Dimitrioulas says winning was important, and he thinks it was enjoyable for the spectators. "Four goals are four goals, but it's nothing if we don't perform," he adds. "It's so important for our club and for Greek handball to bring home the European Cup."
19:42 | FULL-TIME
Jesper Pedersen nets for Athens as the clock ticks over to 59 minutes to big cheers from the crowd, but Ystads earn a penalty which Jim Andersson easily nets. The match ends with a direct free throw for Athens, taken unsuccessfully by Christodoulos Mylonas - but the hosts have a four-goal victory, which gives them a decent advantage going into the second leg on Sunday.
19:37
Nobody has scored for quite some time, and the score stands at 29:25 to Athens inside the last two minutes.
19:31
Not many goals in the last few minutes, so here's one from earlier as Jakob Nygren showed some pace to score for Ystads.

19:26
And the time-out worked. Athens score, and score again when Patrick Toniazzo steals the ball and sends it to Evangelos Arampatzis to slot into the empty Ystads net. Athens now have a 29:24 lead.
19:22
Ystads are back to within two goals of Athens. With the score 26:24 Athens have called a time-out, with coach Dimitris Dimitrioulas asking his team for more in attack. "Relax, we just want to win," says Dimitrioulas.
19:16
Did we speak too soon? Ystads are proving tough nuts to crack, and are repeatedly pulling back Athens' lead to three goals despite Thomas Bauer's best efforts in the Greek club's goal. 
19:02
Five minutes into the second half, and after a good start from Ystads it's Athens back in control with a 19:13 lead. Their fans are singing enthusiastically, clearly sensing a victory is on the cards.
18:55
The second half is about to resume, but first, enjoy this 9m rocket from Jonathan Svensson - part of what kept Ystads very much in the match as the first half ran out.

18:45 | HALF-TIME 
AEK ATHENS 16:12 YSTADS IF
For a little while there it looked as though Athens were going to run away with the match, and they still have a healthy four-goal lead - but Ystads are not out of it yet!

18:35
Ystads seem to have stopped Athens from stretching further ahead, but Thomas Bauer is playing a great match and is preventing the visitors from scoring much. It's 14:10 now as the first half heads towards its close.
18:26
Two goals from Ystads put them back to a four-goal deficit, after Athens briefly stretched it out to 11:5. However, it's the home team still very much in control right now.
18:20
This early goal from Christos Kederis was a nice effort, just getting past the Ystads goalkeeper. Athens seem to be stamping their authority on the match and Ystads have called a time-out at 8:4.

18:15
A little pause to sort out a small problem with one of the sponsor stickers on court, as Athens lead 5:4. When play resumes Athens goalkeeper Thomas Bauer makes a decent save and his team then score off the rebound to give them their first two-goal lead at 6:4.
18:07
It took both teams a little while to find the net, with Athens eventually scoring first before Ystad struck back. It's now 2:2.
18:00
As the teams throw off, here are their squads.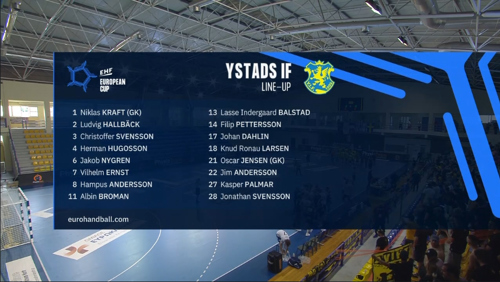 17:55
Only five minutes now until throw-off. A reminder of how the two teams got here - Athens won six out of eight matches, eliminating KH Prishtina, CSM Bucuresti, HC Neva SPb and RK Gorenje Velenje. They beat Velenje in the semi-final double-header after winning at home and drawing away.
Ystad have won seven out of eight matches. They only lost to Sabbianco Anorthosis Famagusta in the first leg of the semi-final but earned a four-goal win at home in the second leg to book their spot in the final.
The final was postponed from its original date due to positive Covid-19 tests in the Ystad team.






17:35
Joakim Hykkerud started his season in his home town, playing for Drammen, but Covid-19 put paid to the club's European hopes. Now Hykkerud is playing for Athens in the final. Check out his extraordinary story here.
17:15
We're just 45 minutes away from the first of what promises to be two exciting matches in the EHF European Cup Men final. It's the second final of a European competition for this weekend's hosts, AEK Athens, while their opponents Ystads are playing their first European season for some time and have never before reached an international final.
For more facts and figures on today's match, read the preview!