Summary: Esbjerg victorious in the Danish thriller, Györ celebrate in MOTW
It's round 7 in the EHF Champions League Women 2023/24, with five matches on Saturday and three on Sunday. Match of the Week heads to Germany as SG BBM Bietigheim host unbeaten Györi Audi ETO KC, and there's an all-Danish battle to see who will finish the round top of group B.
18:25
That's going to be it for today, and for round 7 of the EHF Champions League Women group phase. Thanks for being with us on this journey. The EHF CLW action continues next weekend, however Machineseeker EHF Champions League Machineseeker EHF Champions League is coming up this Wednesday / Thursday, so make sure to stay tuned to all the previews and interviews we've prepared for you to get you in the right mood for what Machineseeker EHF CL round 7 has in store! 
18:15
As always, our daily review is bringing you everything you need to know about the games we've seen, so feel free to check it out!
18:05
A win in Ikast means Esbjerg will now find themselves alone on top of Group B seven rounds into the group phase. They've that way also managed to add another win to their winning streak. 
𝐑𝐄𝐒𝐔𝐋𝐓@TeamEsbjerg secure an important 35:34 away win against Ikast Handbold. Esbjerg now sit on 🔝 of Group B after 7 matches played!#ehfcl #clw #DareToRise pic.twitter.com/11JSmbbATb

— EHF Champions League (@ehfcl) November 12, 2023
17:53
David Ginesta Montes was delighted with the victory his team managed to reach in the end against the reigning European champions. 
We opened the game poorly, but of course I'm in the end happy and proud of the final score. We showed great team spirit again, and that's something we've got to strive for whenever we're out there. I have to repeat I'm really proud of my team.


17:48
In what was an amazingly interesting day with two out of three games being decided in the final seconds, the moment that we've got to highlight is Rapid's last-second seven-meter winner against Vipers! 
𝐌𝐔𝐒𝐓-𝐖𝐀𝐓𝐂𝐇

The 𝑫𝑹𝑨𝑴𝑨𝑻𝑰𝑪 last seconds between Rapid Bucuresti and Vipers Kristiansand! 😱#ehfcl #clw #DareToRise pic.twitter.com/eCA8QxsIDP

— EHF Champions League (@ehfcl) November 12, 2023
17:42
With the final two games of the day now behind us, it's time to check out some of the best photos from Bucharest, Ikast, and Ljubljana. 








17:37
An amazingly narrow, high-scoring game in Ikast, in which Esbjerg managed to secure a hard-fought victory. Nora Mork and Henny Reistad led Esbjerg scoring amazing ten goals each, while Amalie Milling finished the game with 16 saves. Marketa Jerabkova netted eight for Ikast, while Irma Schjött grabbed 13 saves. 
In Ljubljana, Metz secured a comfortable win over Krim. Chloe Valentini and Kristina Jörgensen netted seven each for Metz, while Hatadou Sako had a great day with 18 saves. Tjasa Stanko scored five for Krim. 
17:30 FULL TIME
17:23
With under five minutes left to go, Esbjerg has a one-goal lead in Ikast. Everything points out to another thriller finish.
17:20
Amazingly executed by one and only - Nora Mork. 
These 🚀🚀 are presented by Nora Mørk#ehfcl #clw #DareToRise pic.twitter.com/g2veyEvS5q

— EHF Champions League (@ehfcl) November 12, 2023
17:13
With under 15 minutes left to play, Esbjerg is back in front in Ikast (25:27). Henny Reistad and Nora Mork combined for 15 goals so far. In Ljubljana, Hatadou Sako already has 15 saves as Metz leads 17:24. 
16:58
Tjasa Stanko is leading Krim's attack in this one with four goals from just as much attempts so far. 
𝐓𝐣𝐚𝐬̌𝐚 𝐒𝐭𝐚𝐧𝐤𝐨 putting the defender on ICE! 🧊⛸#ehfcl #clw #DareToRise pic.twitter.com/I4SLEAIAmi

— EHF Champions League (@ehfcl) November 12, 2023
16:52
A 5:2 scoring series to start the second half helps Ikast overtake the lead against Esbjerg at 21:20. A couple of saves from Irma Schjött who now has a total of nine saves. 
16:43
In the high-scoring Danish derby, Esbjerg is ahead at the half. Henny Reistad is leading the team offensively with six goals so far, while Emma Friis netted four for Ikast in the first. In Ljubljana, Metz has a four-goal lead at the break with Krim narrowing the gap in the final minutes of the first. In a battle of goalies, Hatadou Sako (9 saves) has a leverage over Barbara Aarenhart (8 saves). 
16:35 HALF TIME
16:30
A comfortable 8:14 lead for Metz in Ljubljana as we're entering the final minutes of the first half. Six different scorers so far for the French team, and eight saves for Hatadou Sako. 
16:25
Five saves for Irma Schjött so far, including this one. With five minutes left to play in the first, Esbjerg leads 13:15. 
BIG SAVE! 💪#ehfcl #clw #DareToRise pic.twitter.com/7ub0buEbkj

— EHF Champions League (@ehfcl) November 12, 2023
16:18
Barbara Aarenhart has five saves already, but Metz are even with that 5:9 up at the moment. Chloe Valentini has three goals for the French team. 
𝐁𝐚𝐫𝐛𝐚𝐫𝐚 𝐀𝐫𝐞𝐧𝐡𝐚𝐫𝐭 is on 🔥 early on! #ehfcl #clw #DareToRise pic.twitter.com/WpcqIhPOr8

— EHF Champions League (@ehfcl) November 12, 2023
16:15
Mork and Reistad score three each already as Esbjerg leads 6:7 in Ikast. Defenses are looking good on both sides in these opening minutes, with both teams focusing on the offensive transition.
16:10
3:4 leads for Esbjerg and Metz to start the game. Henny Reistad is leading Esbjerg with three goals from just as much attempts so far. 
16:00
The games are on in Ljubljana and Ikast!
15:52
Third-placed Metz (8 points) will play fourth-placed Krim (7 points). Despite having two losses so far, Metz has the best goal difference in Group B. Krim is, on the other side, struggling lately going three rounds without a win after a splendid 3-0 opening to the season. Will this be the game in which Slovenians will find a way back onto the winning tracks?
15:48
What an amazing way it was to start the day! In just over ten minutes, we've got final two games of the round coming up. Ikast is going to host Esbjerg in a Danish derby of the EHF CLW, and in LJubljana - Krim will play Metz. 
Ikast and Esbjerg are on top of the group with 10 points. Ikast has a better goal difference, and they will surely be aiming to defeat Esbjerg today, and rinse out the bitter taste after last round's road loss to FTC. Esbjerg are, on the other side, looking to prolong the four-game winning streak in Ikast with their last EHF CLW loss dating to mid-September and the fame against Krim in Slovenia. 
15:37 p.m
A thriller finish to an amazing match as Vipers lose the ball with second left until the final whistle, and then Rapid gets an opportunity to win the match from the seven-meter line. Andjela Janjusevic scored the last goal to give her team a 30:29 win in the end, Eliza Buceschi finished the match with six, while Diana Ciuca grabbed a total of 14 saves today. Paula Arcos and Lois Abbingh netted six each for Vipers, while Sofie Börjesson finished the match with 13 saves. 
15:32 FULL TIME
15:28
We're leveled with just under 20 seconds left to play in Bucharest! Coach Hlavaty calls for a timeout to prepare what's likely going to be the final possession of the game. 
15:23
With only three minutes left to play, Rapid has a single-goal lead (28:27). We're up for a thriller finish in Bucharest to start this three-game EHF CLW Sunday. 
15:13
Three goals in a row for Korsos as Rapidly widens the gap to three goals (23:20). 
3:08 p.m
Third goal for Dorina Korsos as Rapid takes the 20:19 lead with 15 minutes left on the clock. 
3:03 p.m
Diana Ciuca grabs save 13 of the night opening the counter-attack possibility for Rapid. Romanians convert a good scoring opportunity, and we're once again leveled (17:17). 
14:56
Only three minutes into the second half, and the game is leveled at 13:13!
14:54
Only one of Diana Ciuca's 10 first-half saves that sparked the comeback for Rapid!


𝑹𝑨𝑷𝑰𝑫 𝑹𝒆𝒂𝒄𝒕𝒊𝒐𝒏 ❌☝️ #ehfcl #clw #DareToRise pic.twitter.com/8Hr7vRr1Rp

— EHF Champions League (@ehfcl) November 12, 2023
2:50 p.m
The second half is under way!
2:40 p.m
An eventful first half ends with a three-goal lead for Vipers. Lysa Tchaptchet and Paula Arcos were leading their team offensively in the first scoring three each, while Sofie Börjensson contributed with seven saves. Alicia Fernandez netted three for Rapid, while Diana Ciuca concluded a very good first half with 10 saves, most of which came in the second part of the first when Rapid started narrowing the gap. After a very poor start Rapid managed to get back into this one and it will be interesting to see how things unravel in the second!
14:35 HALF TIME
14:27
What a game to start the day! Marta Lopez scores her second goal of the day to bring Vipers' advantage down to only two goals (9:11) with eight minutes left to play in the first!
14:23
Rapid narrows the gap to five goals (6:11), and Kristiansand coach Tomas Hlavaty calls a timeout. Three goals for Paula Arcos, four saves for Sofie Börjesson. 
14:20
Paula Arcos finds the way through all by herself here!
𝐔𝐍𝐒𝐓𝐎𝐏𝐏𝐀𝐁𝐋𝐄 𝑃𝑎𝑢𝑙𝑎 𝐴𝑟𝑐𝑜𝑠 💪#ehfcl #clw #DareToRise @VipersKrSand pic.twitter.com/Tbhog4ycQQ

— EHF Champions League (@ehfcl) November 12, 2023
14:14
Rapid have managed to find the way through to Kristiansand' net, however their defense is experiencing way too many problems allowing eight goals in opening ten minutes of this one! If they want to stay close, they'll have to find a way to slow guests down sooner rather than later. 
14:08
What a start for Vipers! Only seven minutes into the match they are already 0:5 ahead playing extraordinary on the defensive side of the court, and converting every opportunity in attack! Surely not the beginning Rapid were hoping for!
14:00
The stage is all set and the match is under way! Vipers will have the first possession in Bucharest!
13:50
With only ten minutes left until the opening whistle, the atmosphere in Polyvalent Hall in Bucharest is slowly heating up!
13:37 
Great EHF CLW handball afternoon is ahead of us!
3 great matches where the 𝙨𝙝𝙤𝙬 𝙞𝙨 𝙜𝙪𝙖𝙧𝙖𝙣𝙩𝙚𝙚𝙙! #ehfcl #CLW

14h CET ⏰
➡️ CS Rapid Bucuresti vs Vipers Kristiansand

16h CET ⏰
➡️ Krim Mercator Ljubljana vs Metz Handball
➡️ Ikast Handbold vs Team Esbjerg

📺 EHFTV #DareToRise pic.twitter.com/8JeVXyOXCz

— EHF Champions League (@ehfcl) November 12, 2023
13:27
Teams are entering the game having five points each although Kristiansand (+18) has a significantly better goal difference than Rapid (-15). Romanians will surely be motivated to come up with a good performance and try to keep the points in Bucharest with Vipers ending their unbeaten home streak in last season's quarter-finals, and knocking them out of the competition.
13:18
Going into round 7, Vipers' Anna Vyakhireva was the joint top scorer of the competition with 40 goals. On the other hand, Rapid's best scorer of the season so far Sorina Maria Grozav (21 goals) will not be available in this one, and will miss the rest of the season as she is pregnant. 
13:13
Apart from highlighting how much respect they have for the Vipers team, Rapid Bucuresti coach David Ginesta Montes also touched on how important their amazing fans really are for them. 
''The match against Vipers will surely be very difficult. Our goal is to deliver another good outing against a team that consists of some of the best players in the world right now. The fact they managed to go all the way in each of the last three EHF CLW seasons speaks for themselves. We'll be playing at home today, in front of our fans who are really important for us. I feel like we've prepared well for the encounter, and we're ready to leave everything we've got out there today!'' concluded Ginesta Montes. 
1:03 p.m
Welcome back! The live coverage is up and running again which means we're not far away from the first Sunday game in which Rapid will welcome Kristiansand in Bucharest. Coming up after that, Ikast will host Esbjerg, and Krim will play Metz in Ljubljana. An interesting handball afternoon is surely ahead of us!
SATURDAY, NOVEMBER 11










22:20
Let's finish off with the highlights of the MOTW - you can watch the highlights of all five games tonight on our YouTube channel .
That's all from us for tonight. Join the blog again tomorrow from about 13:00 CET, when we'll be bringing you the last three games of round 7 including the Danish clash between Ikast and Esbjerg. 
22:12
We're coming towards the end of our coverage, but before we go, here's reactions from Bietigheim and Györ to tonight's Match of the Week.
If we have to challenge them on a day like today, we have to be on 100 per cent. We were close for the first 25 minutes, but in the second half we struggled. They are the best team in the world right now.
It was a tough game, as we expected. We had an important meeting, the team made a lot of mistakes but I think we can be happy with the win.
21:57
And here is the promised day review, summarising everything that's gone on in a packed and exciting day of EHF Champions League Women action!
21:48
While we wait for today's match reviews, a look back to the earlier draws and contrasting reaction from Brest and DVSC to their results. 
Both teams fought. We weren't extremely good, we lost a lot of balls. We also have two key balls, the last two before each end of each half, that we did not negotiate well. There were a lot of errors.
In the end I was on a rollercoaster. I'm very happy, we played an amazing game, I can say that we improve from match to match. Bucharest are one of the toughest opponents in the group.
21:34 | FULL-TIME
A much higher-scoring second half, as Gabriela Moreschi's efficiency in particular dropped off, and Györ take their seventh win of the season. Bietigheim slip to third in the group behind Odense based on goal difference and head-to-head results, although both sides have now lost two games and won five. The second half of the season, starting with the return fixture in Hungary next week, will be key for the German side if they don't want this season to replicate last season, when a strong start was followed by a run of losses.
Meanwhile Györ are looking extremely well-placed for a quarter-final spot and, in all likelihood, yet another appearance at the EHF FINAL4.
Ryu Eun Hee is Player of the Match after scoring five goals from eight shots and contributing one assist and one steal. Ryu was on court for a large portion of the match. Estelle Nze Minko also played an important part in the win, with seven goals from seven shots, all in the second half.
Kaba Gassama and Sofia Hvenfelt both scored four for Bietigheim, with another four players contributing three goals each. Gabriela Moreschi ended the match with 12 saves from 45 shots (26 per cent), while Sandra Toft saved 10 from 32 (31 per cent).
21:24
A last timeout for Györ. "Keep the focus, don't give them anything," says Ulrik Kirkely. 
21:20
Linn Blohm puts Györ up by 10 goals and the game is out of Bietigheim's hands. They started so well, but Györ shifted into a second gear after the break and have become much more efficient while Bietigheim's errors have increased.
21:08
Slowly but surely, Györ are creeping ahead, and now lead by six goals. No single player stands out, it's a good team effort, although Ryu Eun Hee is having a good day as she scores her fifth.
20:58
"Come on, we just talked about this situation!" says Jakob Vestergaard, calling a Bietigheim timeout after Györ score three times to the hosts' zero in the first five minutes of the half. Györ have come out with more speed and are finally finding a way to get past Gabriela Moreschi.
20:54
The match restarts, with Gabriela Moreschi and Sandra Toft still in goal.
20:39 | HALF-TIME
A couple of mistakes by Bietigheim, a bit more accuracy and better defence from Györ, and the visitors have a narrow lead at the break. It's been a really good first half, fast-paced and cheered on by a full arena, and the game is definitely living up to the Match of the Week tag!
This is definitely the Bietigheim who started the season rather than the one which lost by such a big margin to Odense in round 6. Kaba Gassama (four goals) and Ryu Eun Hee (three) are the two sides' top scorers at half-time. Gabriela Moreschi is superb in goal for Bietigheim, although Sandra Toft has made some nice saves too.
20:33
Brazil vs Brazil in this clip, as Bruna de Paula beats Gabriela Moreschi - but it's the Bietigheim goalkeeper still having the best time with repeated saves.
20:30
The TV camera catches a little shake of the head from Györ coach Ulrik Kirkely as his team fumble a counterattack, allowing Bietigheim to get ahead again. It remains an incredibly tight match and the technical errors by both sides are increasing. 
20:18
Ulrik Kirkely has some tips for his team on how to beat Gabriela Moreschi as he takes his team through a timeout. The score now is 5:5, including two goals for both team captains, Xenia Smits and Stine Oftedal.
20:12
There's a good crowd in the MHP Arena Ludwigsburg and so far they're witnessing a great start by their team, with Gabriela Moreschi on absolute fire between the posts. She's made some amazing saves and helped Bietigheim to a 4:2 lead after 10 minutes.
20:02
Stine Oftedal scores first for Györ, but Bietigheim are soon level with a well-taken penalty by Veronika Mala. MOTW is underway!
19:53
Here we go from Germany for the day's last game, the Match of the Week between SG BBM Bietigheim and Györi Audi ETO KC. Make sure you're following our Instagram for behind-the-scenes and on-court clips.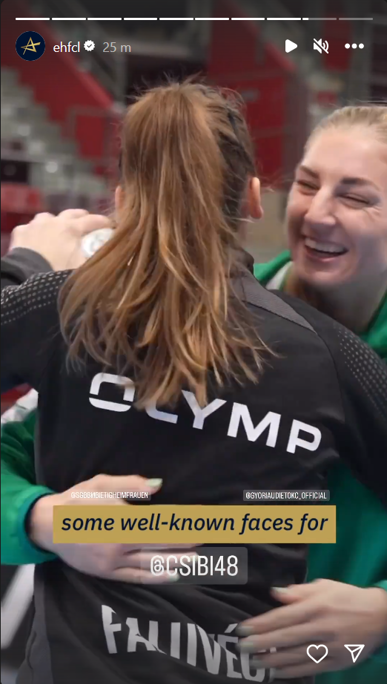 19:43
Just before Match of the Week, here are some quotes from the winning teams of the first two games!
This was one of our best matches so far this season. Sävehof have made great recoveries against both Brest and Györ in the Champions League previously, so we knew that we had to focus all the time and not give them anything.
The flow was way better in the second half then in the first. It feels great that we finally arrived in the Champions League. It wasn't totally good, but great to be back on the winning way.







19:37 | FULL-TIME
In his last timeout, Adrian Vasile gives detailed instructions for the attack - but a superb save by Catherine Gabriel gives Debrecen the advantage. With DVSC in attack Szimonetta has a shot, but she must make it over a defensive wall built by CSM and it's stopped. The referees check what's happened and give the ball back to DVSC, but the next shot is also stopped and CSM have a chance to win. The unthinkable happens as Cristina Neagu makes a bad pass, CSM lose the ball, and it all ends in a draw which DVSC celebrate as though it were a win.
Neagu is still top scorer with nine goals, including two penalties. Evelina Eriksson is the best of the goalkeepers, saving 50 per cent of the shots she faced, although Catherine Gabriel made the most saves (seven saves from 19 shots, 36.8 per cent).
In Brest, Brest lead with seconds on the clock and are in attack, but rather like in Bucharest the Buducnost defensive wall does its thing and gives the visitors a chance which 20-year-old line player Nada Kadovic grasps, sending the ball past Julie Foggea when it rebounds after Foggea saved Mari Tomova's effort. Another draw!
Valeriia Maslova and Ivana Godec were their teams' top scorers, both with six goals. Foggea made seven saves (38.9 per cent) and Ann-Cathrin Giegerich five (45.5 per cent).
19:23
All four teams currently playing are battling for every ball and celebrating every goal, and well they might - these are two insanely close matches! Time is running out and at the moment the most likely outcome seems to be two draws.
19:13
Buducnost regain the lead in Brest to the delight of their bench, and although Brest's coach Pablo Morel then calls a timeout, Siraba Dembélé misses and Buducnost go on the counterattack. It's still a tight, heavily defended game.
CSM and Debrecen are level too. We can't call the winners of these two matches right now!
19:02
Adrian Vasile calls a timeout in Bucharest as Debrecen close up to one goal at 22:21. He wants his defence to be more stable. CSM need to regain control of the match rather than allow the visitors back in.
It's still level in Brest, with the lead constantly changing.
18:52
Time for the second halves - and the best news? There's still one more match to come today!
18:40 | HALF-TIME
CSM secure a good lead towards the end of the first half, as Cristina Neagu scores a wonderful long-range goal into the empty DVSC net. Gabrijela Bartulovic and Gréta Kácsor did their best to stop the goal going in but were just a little too slow. 
A late change of goalkeeper between the Bucuresti posts also helped, as Laura Glauser (three saves from 13 shots, 23 per cent) was swapped out for Marie Davidsen (four saves from eight shots, 50 per cent). Both DVSC goalkeepers have made three saves out of 11 shots (27.3 per cent each). Meanwhile Neagu and Alexandra Töpfner are the current top scorers with five goals each. 
Although CSM lead, it has been a very even first half for the most part and DVSC will know they have a good chance of pulling back that gap.
A low-scoring first half ends in stalemate in Brest after Kalidiatou Niakate beats the buzzer with a lovely hip-shot. There's nothing to pick between these two sides. The red card for Pauletta Foppa has not yet proved hugely significant, but the young line player is normally an important part of Brest's defence.
What the coaches say in the break will be key here!
18:29
Really bad news for Brest, who lose Pauletta Foppa. Foppa, defending against compatriot Kalidiatou Niakate, jumped high and hit Niakate in the face and after a video replay, the referees decided it was worthy of a red card. Buducnost still lead 8:7.
18:23
Buducnost concede a penalty, but Alicia Toublanc's effort is saved by Armelle Attingré and the visitors maintain their lead - and then extend it to 6:4 thanks to Mari Tomova. It's a match currently characterised by strong defence and not many goals.
CSM and DVSC are playing a much faster game with less effective defence at both ends, and it's still close, although CSM have a narrow edge.
18:12
Protests from the Brest bench as Siobann Delaye is suspended for a foul, meaning they're two women down for almost a minute due to a concurrent suspension of Alexandrina Barbosa. Buducnost have the early advantage but only by a goal.
In Bucharest, CSM level the match at 5:5 after a strong beginning by Debrecen.
18:02
Throw-off!
17:51
Here's the squad lists for the other match that's about to start, Brest Bretagne vs Buducnost. Two strong teams, but who will come out ahead? Coverage is beginning on TV and EHFTV.
17:42
The next set of games are about to start in Bucharest and Brest. 
DVSC had a tough trip to Romania, with a four-hour delay to their flight meaning they only arrived at their hotel at 2am this morning. They cancelled morning training and had a vigorous sightseeing walk instead, so hopefully are ready for the match against CSM!








17:31 | FULL-TIME
FTC take their second win of the season, while Lubin have yet to secure any points in the competition. 
Nine goals by Andrea Lekic and eight from Emily Bölk were the key, coupled with a strong performance from Blanka Böde-Bíró too (13 saves for 37.1 per cent efficiency). Notably, more players got involved in the second half after the first half was dominated by Lekic and Bölk.
FTC still remain in the danger zone, however. They are now level on points with Vipers and CSM ahead of their round 7 games, and need to stay on this run of form into the second half of the season if they want to stand any chance of reaching the play-offs.
What a statement of intent from Odense. Not just content with winning the match, they set a new record for the most goals they've ever scored in a Champions League match (beating the 42 they put past Bietigheim in round 6) and the biggest win ever (beating the 41:22 victory over Most last season). Sävehof remain winless and looking for answers after conceding their biggest ever loss in the competition - the previous being a 19:41 defeat by Györ in 2020/21. 
Elma Halilcevic scored nine goals from 13 shots for Odense, with Yara ten Holte making 15 saves (45.5 per cent).
Odense's result also means they've scored 2,000 goals in the Champions League!
17:22
FTC are now firmly in control and are heading for their second (and biggest) win of the season. Andrea Lekic is five goals away from 1,000 but as other players start to play a more significant role in the game, it seems likely she will hit that mark next week.
17:14
Quite apart from Odense being stronger in attack and defence on the outfield, Yara ten Holte has had a superb day today - she's now up to 12 saves (44.4 per cent) as Odense lead Sävehof 35:17.
17:06
With FTC seizing control of the game, Lubin coach Bozena Karkut calls her second timeout in four minutes. FTC have found a bit more speed and confidence and now seem to be enjoying themselves more than in the first half, which is helping them stretch ahead. It's 20:12.
Over in Sweden, Odense are racing away with the match, having scored 31 times to Sävehof's 14. Keep track - Odense's biggest ever win was 41:22 when they beat DHK Baník Most last season.
16:56
Both matches are now back underway, with Odense already scoring three more times and Sävehof on a timeout less than five minutes into the half. 
16:43 | HALF-TIME
The timeout just before the 20-minute mark definitely steadied the FTC ship and the Hungarian club have been more effective since then, with Emily Bölk making more of a mark. Blanka Böde-Bíró has done her bit too. 
Lubin started slowly, picked up in the middle, but have had less luck in the later stages of the half with only two penalties scored by Kinga Grzyb to add to their total in the last 10 minutes. 
Odense have been absolutely dominant against their Swedish hosts, with Yara ten Holte stopping half the shots coming her way and right wing Andrea Hansen scoring six shots from seven attempts to lead the scoring. Several missed shots by Sävehof have added to their woes, and the home team have a lot to do to challenge Odense in the second half.
16:33
There is no stopping Odense, who are closing in on 20 goals already.
16:25
Although Andrea Lekic is playing extremely well, Allan Heine calls a timeout and says Lekic can't be the only person in attack. He wants more efficiency and intelligence and to do more passing, and for more quality on the ball. Lubin have increased their aggression and it's a 8:6 game.
16:19
Sävehof's goalless period ended after eight minutes when Thea Blomst found the net and they've managed to score another four goals since then, but Odense still lead by four.
Lubin are also doing better, helped by a strong Monika Maliczkiewicz in goal with four saves from 10 shots so far. It's 6:4 to FTC. 
16:10
The Odense defence is just too good for Sävehof in these opening minutes, and the visitors have taken a 5:0 lead. Sävehof have had some chances, but they've either missed or been stopped by Yara ten Holte.
In Budapest, FTC lead 4:1. Joanna Drabik started Lubin off well with a quick goal at the 30-second mark, but since then it's all been about the hosts. Andrea Lekic has scored twice, putting her closer to that target of 1,000 Champions League goals.
16:00
Throw off is just moments away in Hungary and Sweden. Tune in now to your local TV station, or EHFTV, and settle in for the evening!
15:50
And just before we turn to the first matches, later on the focus is all on group A. CSM, currently ranked fourth, play DVSC, ranked fifth, while sixth-placed Brest host seventh-placed Buducnost. CSM have lost two of their home matches so far this season, but DVSC have not won away. Brest have not had a home win, but Buducnost have also not been successful away. If Buducnost win today, it will be their 160th victory in the Champions League in 312 matches. 
The Match of the Week sees two of the best sides in the competition, Györ and Bietigheim, go head-to-head. Bietigheim lost in round 6 to Odense, while Györ are looking for their seventh win in a row for the fourth time in history. 
Earlier today CSM star Cristina Neagu confirmed she would stay at the Romanian club for another year - fantastic news that one of the greatest players of all time is sticking around!
15:40
So action begins today in 20 minutes, with both Lubin and Sävehof in search of their first wins of the season. Both will have challenging matches to achieve that: last year's runners-up FTC got their first victory in round 6, beating Ikast 37:36, and with an unbeaten run in the Hungarian league will be hoping they have turned a corner. Their fans will definitely be behind them.
Odense have won four out of the last five matches, but are shakier away - will the fact they're playing just across the water from Denmark bring them any luck?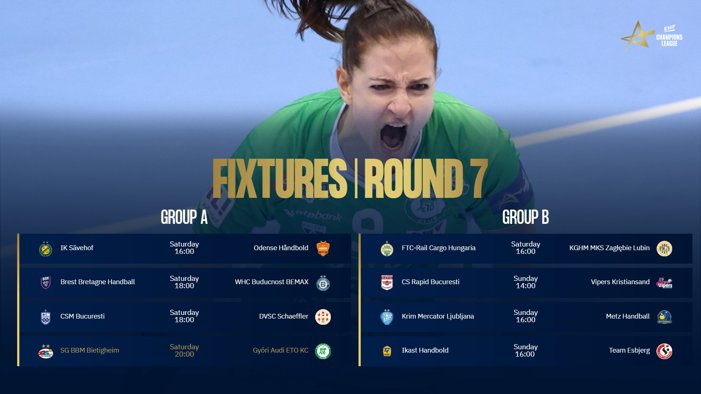 15:30
In the first round of games today, look out for FTC's Andrea Lekic. She has just 14 goals to go before becoming the fourth player to score 1,000 EHF Champions League Women goals - a feat which would put her alongside Jovanka Radicevic, Cristina Neagu and Anita Görbicz. She's scored 36 goals so far this season and her highest-scoring season was 2008/09, when she netted 88 times for Krim. 
As this week's story points out, hitting 1,000 goals today might be a challenge even for Lekic, but it's a target which she is very likely to reach in one of the next couple of rounds. 
15:20 
Welcome to the live blog for round 7 of the EHF Champions League Women! We're somehow already halfway through the group phase - as of next week, we move to return matches - but there's lots to be decided still. 
To begin the coverage this weekend, here's the round preview.