EHF Champions League
Countdown to Cologne starts with semi-final draw
Since the completion of the EHF Champions League Men 2021/22 quarter-finals last week, the line-up for the EHF FINAL4 Men 2022 in Cologne on 18/19 June has been confirmed: Barça, Lomza Vive Kielce, Telekom Veszprém HC, and THW Kiel.
The question who is going to play who in the semi-finals will be answered during a draw at the EHF office in Vienna on Tuesday (24 May), which includes live reactions from four star players.
The draw ceremony starts Tuesday at 11:00 CEST and will be streamed live on EHFTV as well as on the official EHF Champions League Facebook page and Home of Handball YouTube channel.
Some of the stars that are expected to shine at LANXESS arena in Cologne on 18/19 June will join the draw ceremony remotely: Barça's Gonzalo Pérez de Vargas, Kielce's Alex Dujshebaev, Kiel's Sander Sagosen, and Veszprém's Rasmus Lauge.
They all will have a chat via Skype with the draw's moderator, Markus Floth, to share their opinions and excitement ahead of the annual marquee event in men's club handball.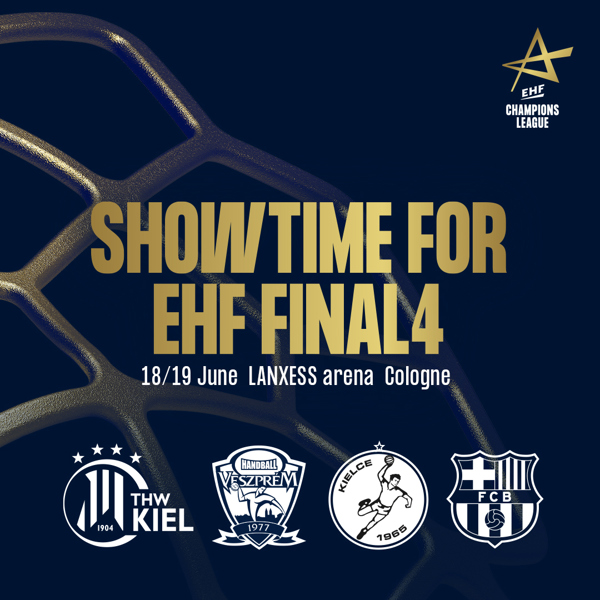 There is no seeding for Tuesday's draw, so the four teams will be randomly picked from the same pot. The draw follows these steps:
step 1: first team drawn for semi-final 1;
step 2: first team drawn for semi-final 2;
step 3: second team drawn for semi-final 1;
step 4: second team drawn for semi-final 2.
The semi-finals 1 and 2 will not necessarily be played in that order at the EHF FINAL4; the exact playing schedule for Saturday 18 June will be announced in due time.
The two losing semi-finalists will contest the third-place match, followed by the two winners playing the big final, on Sunday 19 June.
EHF Champions League awaits yet another spectacular season-ending event
The EHF FINAL4 2022 brings together four teams that have already left their mark on the EHF Champions League season with their strong performances that earned them the ticket to Cologne.
Titleholders Barça return to LANXESS arena to defend their title after two commanding wins over 2014 winners SG Flensburg-Handewitt in the quarter-finals.
The 2016 champions, Kielce, had a similar run with two convincing wins over another former winner, Montpellier HB.
Seeking their first title, Veszprém booked their spot at the EHF FINAL4 despite a second-leg defeat at last season's finalists Aalborg Håndbold, having clearly won the home leg a week before.
And in the closest quarter-final tie, four-time champions Kiel came from behind on home court to edge Paris Saint-Germain Handball by a single goal over two matches.
While they will learn their semi-final opponents on Tuesday, the four teams will use the remaining time until the 18/19 June weekend to get the best possible preparation for the EHF FINAL4 2022, as the EHF Champions League awaits yet another spectacular end to its season.