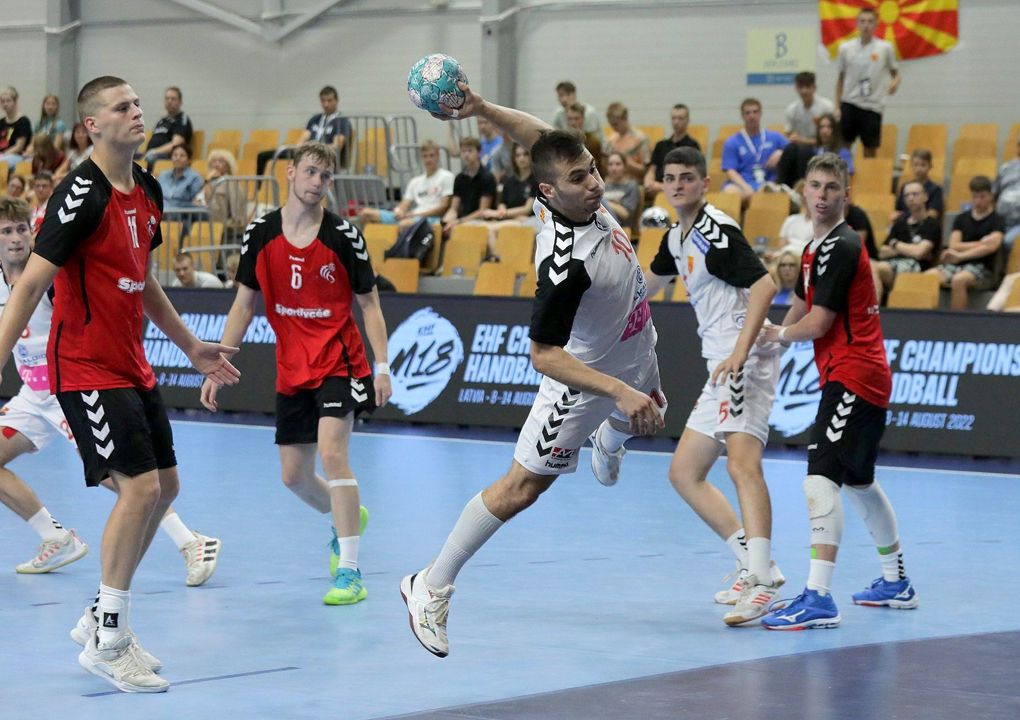 North Macedonia claim M18 EHF Championship in Latvia
After North Macedonia and Switzerland earned wide-margin victories in the semi-finals of the M18 EHF Championship 2 2022 on Saturday, the stage was set for the final on Sunday in Riga, Latvia.
With seven minutes left in the final, North Macedonia trailed 22:20 against Switzerland. However, North Macedonia claimed the title after a 4:0 run in the remainder of the match gave them a 24:22 victory.
Steenaerts stars for Switzerland in victory and defeat
When Gino Steenaerts scored for the 11th time against North Macedonia in the final, Switzerland led 22:20 and appeared on course to claim the title. However, North Macedonia found the collective effort required to stop Steenaerts and his teammates in the closing minutes. 
Steenaerts scored a total of 24 goals in Switzerland's last two matches, but his individual tally in the final was not enough to give his side the goal medal in Latvia. For North Macedonia, Tomislav Dimkovski, the MVP of the tournament, had something close to the last word when he scored two of the last four goals. Dimkovski scored seven goals in the final, while Aleksandar Petkovski netted six times for the winners.




All-star Team
Goalkeeper: David Brestovac (North Macedonia)
Left wing: Mihael Totikj (North Macedonia)
Left back: Valentin Wolfisberg (Switzerland)
Centre back: Vincent Kreiselmaier (Luxembourg)
Right back: Eyüp Arda Yildiz (Türkiye)
Right wing: Aleksandar Petkovski (North Macedonia)
Line player: Jevgenijs Rogonovs (Latvia)
Best defender: Mischa Romer (Switzerland)
MVP: Tomislav Dimkovski (North Macedonia)
Top scorer: Luke Kaysen (44 goals, Luxembourg)
Final ranking
1st North Macedonia
2nd Switzerland
3rd Luxembourg
4th Latvia
5th Türkiye
6th Belgium
7th Kosovo