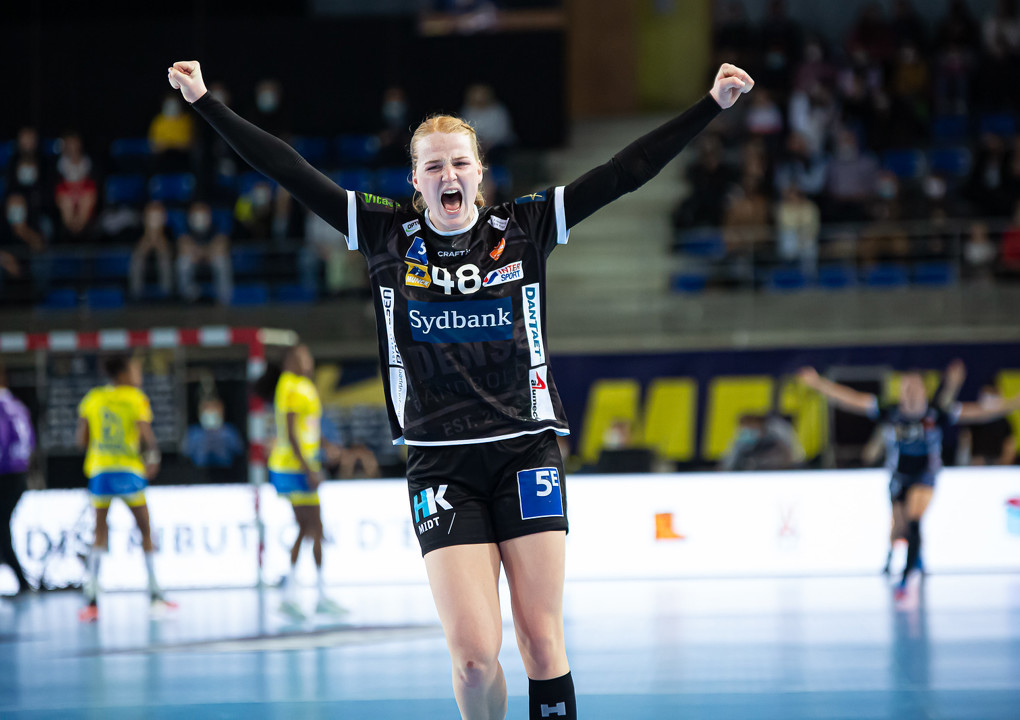 Housheer on fire in debut Champions League season
Her 71 goals in the group phase have earned Dione Housheer a place in the top 10 of the EHF Champions League Women 2021/22 top scorers list, among the likes of Cristina Neagu, Nora Mørk, Jovanka Radicevic, Grace Zaadi, or Ana Gros.
Fair to say the 22-year-old Odense Håndbold right back has arrived at the very top of her sport this season.
What sets Housheer apart from the others, though, is her status as a debutant: While the rest of the leading goal-getters are seasoned players, this is only the Dutch international's first year in Europe's top-level club competition.
"The Champions League is definitely something I dreamed of when I was a kid," Housheer tells eurohandball.com in the build-up to Odense's play-off matches against Brest Bretagne Handball, with the first leg in Denmark scheduled for Sunday (live on EHFTV at 16:00 CEST).
"That it all started so well this season gives me extra motivation to keep going. Of course, one match went better than the others, but overall, I am pretty satisfied with my first season. This makes me hungry for more."

After joining Odense from Danish league rivals Nykøbing Falster Håndboldklub in the summer of 2021, Housheer quickly settled at her new club. In Odense's first four EHF Champions League games, she netted 30 times. She ended up scoring in all 14 group phase matches – and never fewer than three goals per match.
"I can't complain, and I am pretty proud of how the season has gone so far. But I am still young, make mistakes, and am searching for more consistency," Housheer says.
The move from Nykøbing to Odense, and from the EHF European League to the Champions League, has been smooth.
"From the start, I got a lot of minutes playing time and I got the chance to show what I can do," Housheer says.
"I knew the Danish language, I knew the culture after playing here for three years, so it was a bit easier to move to another club and join a new team. I could focus on getting used to the playing style and didn't have to worry about too many other things."
And in case of an issue, Housheer always has a bunch of fellow Dutch internationals as teammates at Odense to fall back on: Lois Abbingh, Kelly Vollebregt, Bo van Wetering, and, since December, Larissa Nusser are also wearing the orange Odense jersey.
"It is always nice to have something like a home feeling around you, some atmosphere. It feels a bit more like home," says Housheer, who left VOC Amsterdam in her native Netherlands for Nykøbing in 2018.
"The first two years I played in Denmark, I was the only Dutch player at my team. That was special, as well."

Back then, Housheer was already regarded one of the leaders of a talented, new generation of Dutch players. She was five when she started playing handball, made a national youth selection at age 13, and was still only 16 when she was named MVP of the W18 European Open 2016 in Sweden and subsequently voted EHF Player of the Month in July 2016.
With speed and creativity as her biggest assets, Housheer soon became a standout player at senior level in the Dutch Eredivisie, where she was named Talent of the Year in 2017, and Player of the Year in 2018 after winning both the national league and cup with VOC.
Moving abroad was a logical next step in her career.
"At Nykøbing, I experienced how it is to get to this level: How is the Danish league, how can I develop my own game, where can I become smarter and faster?" Housheer says about her learning curve as a player.
"But I still have a lot to learn – in defence and my timing: When do I go and when not? Also, I could still improve my decision-making when it comes to shots from distance."

Housheer has made a substantial impact on Odense's performance so far this season. They are proud leaders in Denmark, losing just one league game so far – against fellow EHF Champions League contenders Team Esbjerg.
And upon their third appearance in the EHF Champions League, they have advanced from the group phase for the third time.
"We lost a few points we shouldn't have lost, like against Vipers, and that is a pity. Those are matches on the highest level and I think we learn a lot from them. The problem is that, as a team, we are fluctuating. We don't always play up to our best. If we all reach our level each match, we can beat almost every team," Housheer says.
"It was nice to see that we nearly won or got a point in Györ, losing only in the last second. You can see that we are growing as a team."
As a team, we are fluctuating. We don't always play up to our best. If we all reach our level each match, we can beat almost every team.
Odense lost to the eventual champions both previous times they made it the knock-out phase of the EHF Champions League: in the 2018/19 quarter-final against Györi Audi ETO KC, and in the 2020/21 play-offs against Vipers Kristiansand.
Up next for Housheer and Odense this time is a double-header against the finalists from last season.
"Brest are strong, they really have a lot of different qualities: Physically strong with a lot of speed. It is going to be hard work," Housheer says.
"I think it will be a technical, fast game with a lot of running. If we play well and our defence stands well, I am sure we can win."