EHF EURO
Summary: Teams regroup ahead of main round
Although Wednesday is a rest day for the 12 teams left in the competition, there will still be plenty going on at the EHF EURO 2022.
18:50
In 10 minutes, at 19:00 CET, we'll be going live on Twitch again for our live show from Budapest with Edu Tóth and the EHF's Andrew Barringer. Head over for all the fun. 
That's all from the blog for today, but we'll be back at 10:00 CET ahead of the main round throwing off at 15:30 CET.
17:40
If you can't watch handball, you might as well play handball. Well, kind of.
Our handball shoot-out game is ridiculously addictive and quite tricky. But fun. Pick a country to play for and help it climb the leaderboard. Just click here to find out more. 

17:00
With 36 games played in the preliminary round, picking the best moments was a tough job. But someone's got to do it, so we did. Take a look at this and do have your say on social media to tell us what your favourite bit was.
16:20
Go to Twitch now for the (Un)informed Handball Hour's live show - Stefan Kretschmar and Rasmus Boysen are the guests.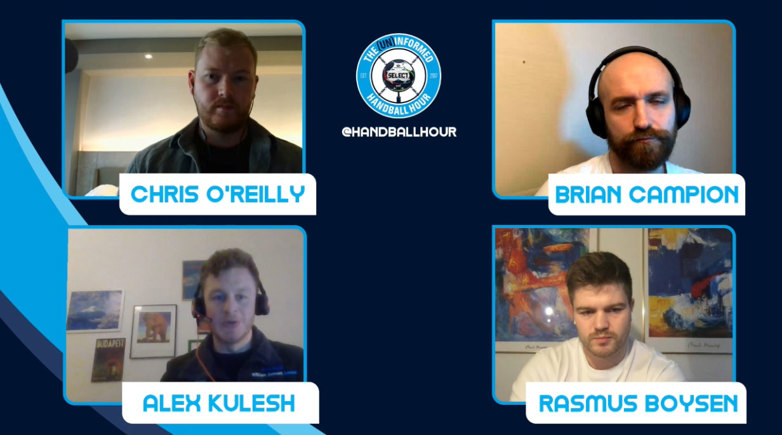 15:10
More team news - Russia have been putting their rest days to good use, getting in a bit of training in the Bratislava gym. They start their main round against Sweden tomorrow.

14:57
There have been lots of birthdays during the tournament so far. Today Montenegro's goalkeeper Nebojsa Simic, who was so important to their victory against Slovenia, turns 29 today. He probably won't have too much time to celebrate, however, as Montenegro prepare to play Croatia tomorrow.

14:42
Congratulations to Denmark's coach Nicolaj Jacobsen, who has been named as Denmark's coach of the year across all sports after leading his team to a second successive world title last January and Olympic silver in August.
Denmark look good here in Hungary - will they make it a third major tournament medal in a row? Their main round begins tomorrow with a tantalising all-Nordic clash against Iceland.

14:10
Here on the EHF EURO live blog we love a good statistic, and there are some cracking ones in this fascinating article looking at the use of data, supplied by KINEXON, for the tournament.
For example, the the six highest jumps at the competition have all been made by backs, and wings are the fastest runners - Ukraine's Dmytro Artemenko has been recorded running at 31.8 kph.
Read on to find out more!
13:10
You can't have a top five goals without one from top scorer Kay Smits, and he's joined by excellent efforts from others including Christoph Steinert of Germany in our compilation from last night.
12:40
One of our talking points was the impact of the goalkeepers on teams' performances, and last night demonstrated that to the full. Particularly in the game between Portugal and the Netherlands, Bart Ravensbergen and Gustavo Capdeville were absolutely crucial. So here are the top five saves from Tuesday's games.
12:10
With the preliminary round over, EHF journalist Adrian Costeiu has looked back at some of the major facts and stats - analysing the performances of surprise packages the Netherlands and Russia, top scorer Kay Smits, the goalkeepers, and the new records set by defending champions Spain. Dive in and discover our talking points.
11:25
Something to look forward to later today - the (Un)informed Handball Hour will be discussing the preliminary round and predicting the main round live on Twitch at 16:00 CET. Make a note of the time and head to Twitch then, where they will be welcoming German star Stefan Kretschmar and Danish player and stat-meister Rasmus Boysen.
10:35
There are a few things still to look back on and enjoy from the preliminary round, starting with the Grundfos Players of the Match from the four games which concluded things last night. Luc Steins, Ómar Ingi Magnusson, Julian Köster and Mikita Vailupau received the awards.

10:00
We're just over halfway through the competition, with 36 matches played and 29 to go. The main round will begin on Thursday with action in both groups I and II. 
The participants include most of the usual suspects - Spain, Denmark, Norway, Sweden, Croatia - plus some resurgent nations, and the two surprise packages of the tournament, Montenegro and the Netherlands. Over the next day or so ahead of the matches beginning, we'll be looking at some of their stories in more detail.
We begin with an interview with Denmark's Rasmus Lauge, and how his comeback from injury has coincided with Denmark's return to form after their disappointing EHF EURO 2020.