EHF Champions League
Summary: CSKA and Metz take important wins in round 12
Round 12 of the DELO EHF Champions League saw a mixture of big wins – notably recorded by Team Esbjerg and CSKA – along with a host of tight and compelling matches. 
Significantly, Metz Handball's win against FTC-Rail Cargo Hungaria consolidated second place on the group A table for the French club, while CSKA's victory moved them above Brest Bretagne and into second place in the group B standings. 
18:45
We end our round 12 coverage on the blog with a poll question that asks which winning performance from this weekend's round 12 matches was the most impressive. As Györ versus Brest ended in a draw, there are five options available for you to choose from. 
18:30
The best photos from Sunday's four DELO EHF Champions League are now available on our Facebook page. 
18:27
Kevin Domas' review of Metz's win against FTC-Rail Cargo Hungaria is also now online. The list of teams that have travelled to Metz and failed to pick up two points in the DELO EHF Champions League is noteworthy. 
18:20
Here are some post-match quotes from the winning head coaches from Esbjerg and CSKA, respectively. 
Team Esbjerg head coach Jesper Jensen said: "I am very pleased because we were under a lot of pressure. We knew it was going to be difficult, but then they got the red card and that had a big effect on the game."
CSKA head coach Jan Leslie said: "I want to give big applause to my team. It was many good things today and I want to continue this way. Today it was a very good performance from my team."
18:07
The reviews from the Valcea vs CSKA and Esbjerg vs Krim matches are online and available to read.
As you might expect, EHF journalist Adrian Costeiu's review of the Esbjerg vs Krim match is full of facts for you to enjoy.
17:52
Here is confirmation of the results from the six matches played in round 12 of the DELO EHF Champions League this weekend.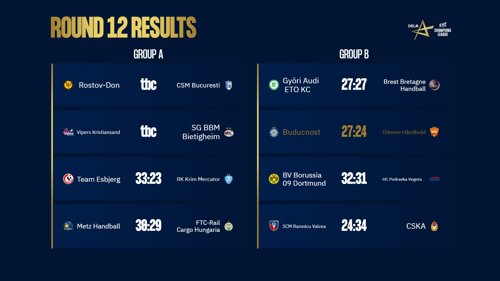 17:37
Here is confirmation that Metz won 30:29 against FTC in an epic DELO EHF Champions League match.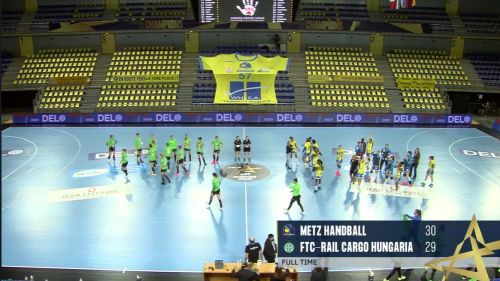 17:33
Nadine Schatzl misses a shot from the left wing with 20 seconds, Orlane Kanor is awarded a penalty on the following Metz attack and Tjaša Stanko converts to give Metz a 30:29 win.
17:30
Team Esbjerg have recorded a 10-goal win that provides them with a cushion over RK Krim in group A.
17:28
Marie Hélène Sajka has equalised for Metz. There is less than a minute left and the score is 29:29.
17:26
CSKA complete a 10-goal win that puts them in second place in group B. CSKA had 11 (yes, 11!) different scorers in a comprehensive and thoroughly impressive win.
17:21
18 saves at 45 per cent - Rikke Poulsen is a key reason why Esbjerg lead Krim 31:21 as they enter the closing stages.
17:19
Antonina Skorobogatchenko with the goal of the day? Now ahead 33:20, CSKA are currently cruising to a huge win against Valcea that will move them up to second place in group B.  
17:16
The Metz versus FTC match has not been a match for goalkeepers. Both teams' save percentages are below 25 per cent.

17:13
Anikó Kovacsics ended a seven-minute goal drought for FTC against Metz to put her side up 22:20, but Metz have found their rhythm once more and only trail by one (24:23) with 11 minutes remaining.
17:08
Valcea call another timeout against CKSA. The Russian side have powered further clear in the second half and now lead 27:16.
17:06
As per EHF journalist Kevin Domas: If Metz lose this match against FTC, it will be their first defeat at home in the EHF Champions League since they lost on 28 January 2017 against the same opposition.
17:00
Anett Kovács' goal in the first half catapulted FTC into the lead. So far in the second half, leading 20:17, they do not look likely to give it up easily.  
16:56
The second half is now underway in all three matches. There have not been any significant changes to the half-time scores yet.

16:48
HALF-TIME - Team Esbjerg 16:11 RK Krim Mercator
Team Esbjerg lead Krim by five goals after the first half in Denmark in which the Slovenian side saw Natasa Ljepoja red carded.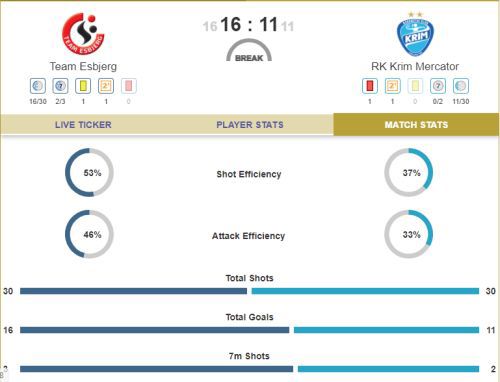 16:44
HALF-TIME - SCM Ramnicu Valcea 9:17 CSKA
CSKA have been in control throughout the first half against Valcea.
If that makes it sound somewhat predictable, enjoy Yuliia Markova's skilful finish that lit up the match. 
16:38
HALF-TIME - Metz Handball 14:17 FTC-Rail Cargo Hungaria
Gréta Márton's third goal of the game is followed by a successful penalty from Katrin Kljuber late in the half, handing FTC a three-goal lead after 30 minutes. The Hungarian side have responded well to the challenge that Metz provided in the first half.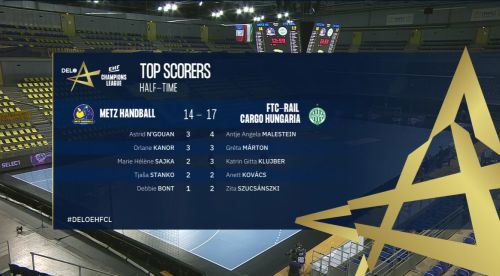 16:31
Having dominated the early stages, Esbjerg lead Krim 13:10 after 28 minutes in Denmark. 
Marit Røsberg Jacobsen showed how effective lobs from the wing can be earlier in the half.
16:25
CSKA are moving along impressively against Valcea. A beautiful pass into Marina Sudakova, who had moved in off the wing, was duly converted, extending their lead to 12:7 after 21 minutes.
16:22
Here is Metz at their free-flowing best in the early stages against FTC.
16:20
With CSKA three goals up (8:5) after 15 minutes, Valcea called a timeout.
Meanwhile, after their own timeout, Metz have responded to falling behind 8:9 against FTC with a three-goal run to lead 11:9.
16:12
Metz are ahead 7:5 against FTC after 11 minutes, while CSKA have just scored two quick goals against Valcea to move ahead 6:4.
16:09
The match review for Dortmund versus Podravka is worth reading when you have some time. Admittedly, with three matches ongoing, that may not be until half-time.
Today we fought very good as a team. It was not easy because we had to change a lot in defence. But we won as a team today, we have used our weapon – speed – a lot more in this game.
16:02
We are underway in Metz for their match against FTC-Rail Cargo Hungaria.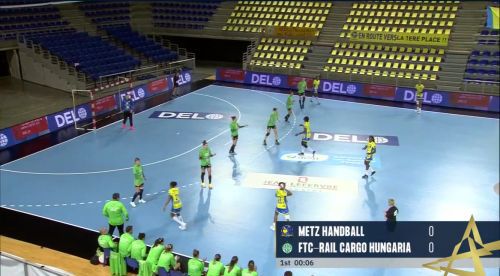 15:55
Some of the build-up images that Valcea have sent ahead of their match against CSKA are worth looking at in our gallery below. 








15:45
Attention now shifts to the three matches that throw-off on EHFTV.com at 16:00 CET. Our focus will primarily be on Metz versus FTC and Valcea against CSKA, but updates will, of course, be provided from Esbjerg-Krim too.
Metz's Twitter account has tweeted their line-up for the match against FTC. 
15:40
Laura van der Heijden's eighth goal of the game was certainly the most important one.
15:38
Yuliya Dumanska's performance was not enough for Podravka to pick up anything from the match. But a glimpse of what she produced on Sunday for her side can be seen here.
15:32
Laura Van der Heijden breaks through with just over 10 seconds remaining and scores the match-winning goal for Borussia Dortmund against Podravka.

15:21
Just over five minutes to go and Podravka call a timeout. Dortmund lead 30:29 but any outcome remains possible.
15:17
Whilst Inger Smits leads Dortmund's scoring with seven goals, Tina Abdulla has been faultless from the seven-metre line, converting all four of her attempts for the German side. 
15:13
Podravka reclaimed the lead at 23:22 a few minutes ago and have edged ahead a couple more times by one goal, only for Dortmund equalise. The match is tied at 25:25 with just over 11 minutes remaining. 
15:07
Podravka have responded with some good play in attack of their own and are once again level at 21:21. 
14:55
A fast start to the second half sees Dortmund open up a 17:14 lead after 34 minutes played.

14:44
The statistics from the first half confirm what a strong half Yuliya Dumanska (12 saves) had for Podravka, but Yara Ten Holte made eight for Dortmund and her individual save percentage is above 40 too. 

14:39
Half-time - BV Borussia 09 Dortmund 13:12 HC Podravka Vegeta
The final shot of the half from Laura Van der Heijden hits from the goalframe, and Borussia Dortmund lead Podravka 13:12 at half-time.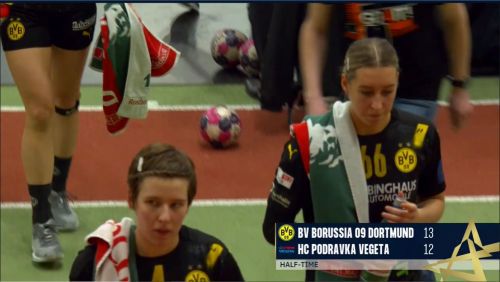 14:35
Trailing 12:11, it is Podravka's turn to need a timeout. 

14:31
The timeout had a positive effect for Dortmund, who enjoyed a three-goal run to level at 10:10. Podravka have retaken an 11:10 lead after almost 26 minutes – but the match is now wide open.
Meanwhile, take a look at Dijana Mugoša's finish from the wing earlier in the half for Podravka.
14:25
With Podravka leading 10:7 – their first three-goal lead of the match – Dortmund call a timeout.
14:21
The scoring efficiencies after almost 18 minutes played explain the impact Dumanska's performance has had on the match so far: Dortmund are on just 33 per cent, while Podravka are on 57 per cent.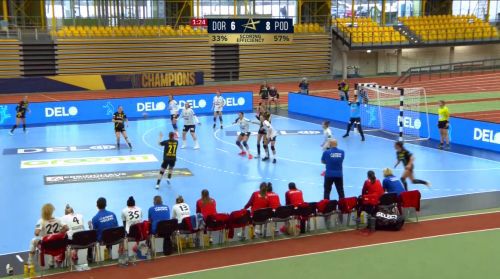 14:14
Podravka goalkeeper Yuliya Dumanska has already made seven saves from 11 shots faced. The scoreline, however, is only narrowly in her side's favour as they lead 5:4 after 12 minutes.
14:05
We are underway in Dortmund. With three minutes played, Dejana Milosavljevic has scored the only goal of the game.
13:55
EHFTV highlighted the centre backs from both teams in the pre-match build-up: Podravka's Dejana Milosavljevic and Dortmund's Alina Grijseels.
How important will their goals and performances be in determining the outcome? We will find out shortly.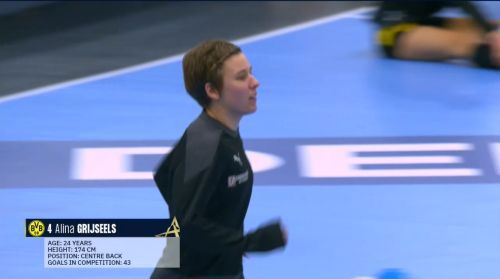 13:45
Live coverage of Borussia Dortmund versus Podravka Vegeta is now underway on EHFTV.com. Here is the direct link for the match.
13:20 
It is worth looking at the standings in both groups before Sunday's matches get underway.
Buducnost's position in group B did not change after their win against Odense in Match of the Week. But with a view to Sunday's action, after Brest's draw against Györ on Saturday, CSKA have the opportunity to overtake the French side and finish round 12 in second place.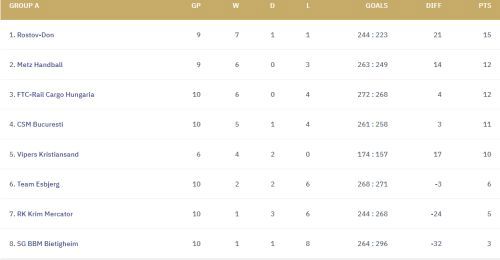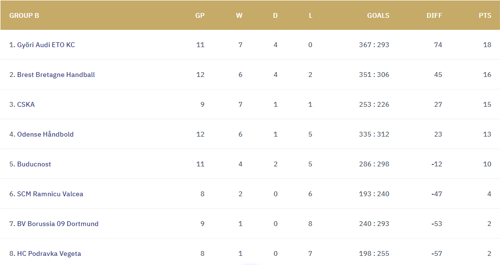 13:00 - Sunday
Welcome to Sunday's live blog coverage from round 12 of the DELO EHF Champions League. We have a total four matches ahead of us this afternoon.  
GROUP B: 14:00 CET – BV Borussia 09 Dortmund vs HC Podravka Vegeta
GROUP B: 16:00 CET – SCM Ramnicu Valcea vs CSKA
GROUP A: 16:00 CET – Metz Handball vs FTC-Rail Cargo Hungaria
GROUP A: 16:00 CET – Team Esbjerg vs RK Krim Mercator 
Given the standings, Dortmund vs Podravka and Esbjerg vs Krim will be important matches in the race to finish in the top six in each group. 
FTC defeated Metz earlier in the week in a rescheduled match. With both sides currently on 12 points, Metz are currently in second place and FTC are in third place in group A, so the winner of Sunday's match will be in second at the close of play today.
SCM Ramnicu Valcea, who are currently in sixth place in group B, also meet CSKA. The Russian side will close the gap on group leaders Györi Audi ETO KC to just one point if they win.
20:40
We end Saturday's coverage with the best pictures from the two matches played. Re-join us tomorrow at 13:00 CET for the four matches scheduled on Sunday, including Metz versus FTC-Rail Cargo Hungaria and SCM Ramnicu Valcea versus CSKA.
It was indeed a thriller in which no winner emerged, but you can now read our review for the top-of-the-table group B match between Györ and Brest.  
20:25
Whilst statistics do not always tell the full story in handball, Barbara Arenhart's final tally of 20 saves, 47 per cent efficiency and one goal scored were outstanding numbers for a goalkeeper.  
20:10
Read our match review, written by EHF journalist Sergey Nikolaev, for analysis and reaction from the Match of the Week between Buducnost and Odense. 
It is strange, because we made a draw again against Győr. I am very satisfied with the game, I have fantastic players who did not fall into panic. I hope we will meet in the EHF FINAL4 again and we will be able to win there!

We showed an aggressive game, we complied with everything that was agreed before the game. Odense is fantastic in the transition, we managed to impose our rhythm and that was the key to victory
19:51
As Brest's official Twitter account notes, it is the third draw between Brest and Györ in their last four meetings in the DELO EHF Champions League. The result is also a repeat of last season's match in Hungary.
19:45
Here is the crucial Ana Gros equaliser for Brest!
19:42
It did not look likely with how the French side's last attack was going, but Ana Gros's goal with no more than a few seconds remaining snatched a point for Brest against Györ.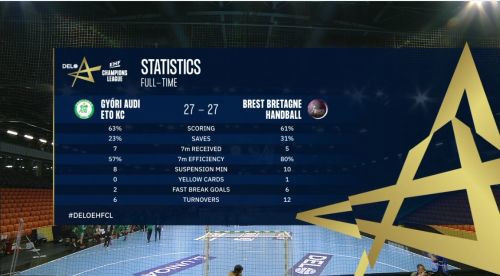 19:37
Barbara Arenhart was rightfully named Player of the Match for her spectacular performance in Match of the Week.

19:35
Buducnost seal a 27:24 win against Odense. Barbara Arenhart's display in goal provided the platform for the Montenegrin side to pick up their fourth win of the season and move to 10 points in group B.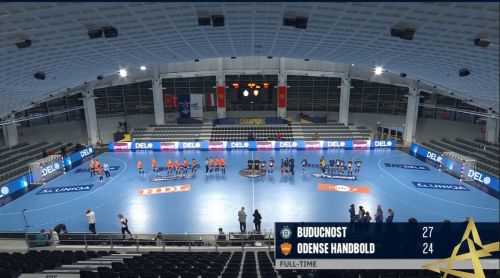 19:28
Not content with stopping Odense, Arenhart has just scored a goal from almost 40m. 
Meanwhile, Györ have called a timeout against Brest. The score is 26:26 with 80 seconds remaining.
19:25
With four goals, Mie Højlund has been doing her best to help Odense turn this match around in the second half. 
19:18
After 51 minutes, Arenhart has made 18 saves, as per the statistics on eurohandball.com, while Reinhardt and Wester combined have registered six. Arenhart's performance for Buducnost has been huge. 
19:15
Györ and Brest enter the last 10 minutes locked at 23:23. An exciting ending is in store there.
19:13
Jovanka Radicevic scores her seventh of the game, joining Itana Grbic on the same number after 47 minutes, and Buducnost lead 21:17.
19:00
With just over seven minutes of the second half played in Montenegro, Buducnost remain in front (15:13).
Meanwhile, was this shot by Constance Mauny the pick of the action from both halves played so far? 

18:50
Barbara Arenhart was outstanding in the first half for Buducnost, and here is her denying Freja Cohrt.
18:47
HALF-TIME - Györi AUDI ETO KC 15:15 Brest Bretagne Handball
No more goals in the first half between Györ and Brest means that it is level at the break in the clash between the group B heavyweights.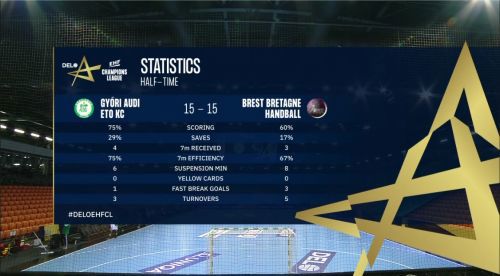 18:40
HALF-TIME - Buducnost 13:10 Odense
Buducnost are ahead 13:10 after the first half of Match of the Week against Odense. With two fast break opportunities in the last minute of the half missed, Buducnost's advantage could have been greater but they will certainly be happy overall with their lead and defensive performance so far.
 
18:35
Whilst Match of the Week between Buducnost and Odense gets top billing, the first half between Györ and Brest has been thrilling. The two sides are level at 15:15 after 28 minutes in Hungary.
18:30
Nine saves at almost 53 per cent: Barbara Arenhart is playing a vital role in goal for Buducnost.
With an 11:8 scoreline in their favour, the Montenegrin side have called a timeout.
18:25
Buducnost are in the ascendancy and now lead 11:6. Allison Pineau's breakthrough goal from earlier in the half is worth watching for the delicate touch at the end.
18:17
Meanwhile, in Hungary, Györ are level with Brest at 8:8 with just over 15 minutes played – but the home side have a penalty opportunity coming up.  
18:12
Majda Mehmedovic moves in off the wing, breaks through to score and Buducnost suddenly have a three-goal lead, 7:4. Odense immediately call a timeout. 
18:08
11 goals last week – and Lois Abbingh has already scored three for Odense in eight minutes as they take their first lead of the match, 4:3. 
18:03
Match of the Week is underway between Buducnost and Odense in Montenegro. Buducnost have scored the first goal of the game, but here are the line-ups for both teams from EHFTV.com.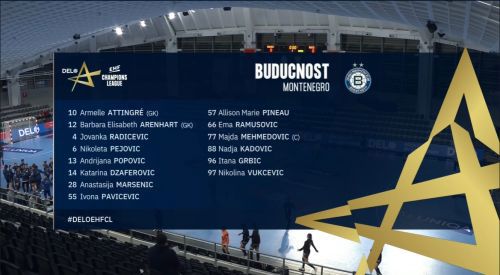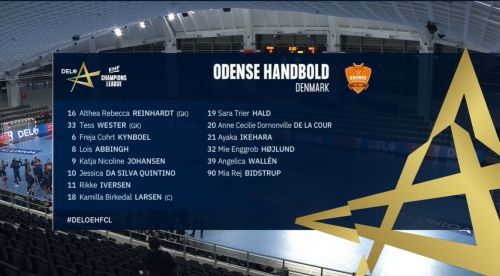 17:55
As prepare to get underway, here are the direct links for both matches on EHFTV.com. 
Györi Audi ETO KC vs Brest Bretagne Handball
17:50
The build-up photos from Buducnost have arrived ahead of Match of the Week against Odense. Check them out in the image gallery below.




17:35 - Saturday
Here are a selection of facts ahead of Buducnost hosting Odense in Match of the Week. 
Odense Håndbold defeated Buducnost 30:21 in the reverse fixture in September, which was the Danish side's first win against the two-time EHF Champions League winners after two defeats in the 2018/19 group phase.
Odense (with 13 points) have qualified for the playoffs, Buducnost (eight) are not formally through yet.
Buducnost lost a rescheduled match at SCM Ramnicu Valcea (25:23) on Wednesday, their first defeat in the Champions League in 2021 after a draw at Brest Bretagne Handball and a home win over BV Borussia 09 Dortmund.
Buducnost have lost one of their four home matches so far this season, against CSKA (25:22) in September.
Last week Odense came close to ending the three-year-long unbeaten run of Györi Audi ETO KC in the Champions League, but the match ended in 32:32 after Odense led 32:29.
17:20
Ahead of the Match of the Week between Buducnost and Odense, let us take a look at both sides form from their last 10 games in the DELO EHF Champions League.
From their two matches played in 2021, Odense have picked up three points, including last weekend's thrilling draw against Győri AUDI ETO KC. Meanwhile, Buducnost have also earned three points, but we will see what Saturday's match brings when it gets underway in 40 minutes.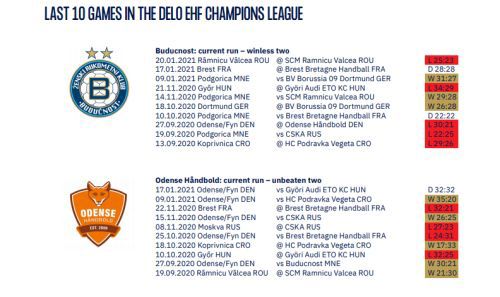 17:00
Welcome to our live blog coverage of round 12 of the DELO EHF Champions League. With an hour to go until throw-off in Saturday's two matches, there is no better place to begin than with our round 12 preview.